What to do if your cell phone was water damaged?
– I dropped my phone in to the water. Can you fix water damaged phone?
We hear this question more than 5 times a day.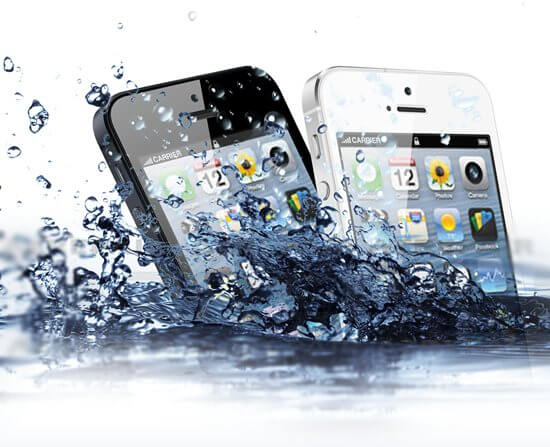 So we decide to write an article about water damaged phone with 5 helpful advices for you.
Water is very aggressive environment that probably will destroy your phone if it get wet.
What do you need to do to save your device and your important data on it?
1. Disconnect your battery


Battery is the power supply of your phone. To save your phone – disconnect the battery as soon as possible. If you got lucky and did it on time, your phone will be in working condition after cell phone battery replacement again.
2. Do not connect phone to the socket or laptop


If you have water inside the phone, run the electricity into your phone isn't a good idea at all.
You can easily damage charging port or even motherboard.
If you already did it, charging port replacement might return your phone in to the business again.
3. Put your device in the bowl of rice 


Rice is the best home-made method of drying your water damaged device.
If you can't go to the cell phone technicians immediately,you can put your cell phone in the bowl of rice and leave it there at least for a night. After that try to show it to our technicians as soon as possible. They will tell you if it is still possible to repair water damaged phone or not. Your chances will be extremely increased if you do that. Rice won't save you from scrubbing your motherboard of corrosion and won't replace battery and components that are fried due to the corrosion,but it may prolong the life of your phone before getting to someone who will be able to replace all damaged components professionally.
4. Do not try to dry your phone with hair dryer or using microwave


Mobile gadgets have very tiny and sensitive parts and microcontrollers. If you overheat your phone it might be never fixed again.
5. Do not try to repair the phone by yourself


Trying to repair phone without knowledge might cost you a new phone. Our certified cell phone technicians strongly recommend not to risk if you aren't sure what to do.
If you did one of this actions before you read this article,
we still can try to fix your water damaged phone, since we offer free cell phone testing anyway.
Mr Fix Cell Phone & Computer Repair technicians